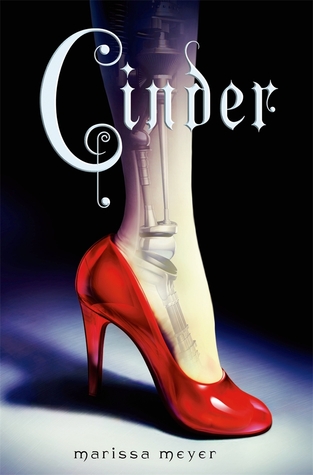 Synopsis (from Goodreads)
Sixteen-year-old Cinder is considered a technological mistake by most of society and a burden by her stepmother. Being cyborg does have its benefits, though: Cinder's brain interference has given her an uncanny ability to fix things (robots, hovers, her own malfunctioning parts), making her the best mechanic in New Beijing. This reputation brings Prince Kai himself to her weekly market booth, needing her to repair a broken android before the annual ball. He jokingly calls it "a matter of national security," but Cinder suspects it's more serious than he's letting on.
Although eager to impress the prince, Cinder's intentions are derailed when her younger stepsister, and only human friend, is infected with the fatal plague that's been devastating Earth for a decade. Blaming Cinder for her daughter's illness, Cinder's stepmother volunteers her body for plague research, an "honor" that no one has survived.
But it doesn't take long for the scientists to discover something unusual about their new guinea pig. Something others would kill for.
"Imagine there was a cure, but finding it would cost you everything. It would completely ruin your life. What would you do?"
The Lunar Chronicles is a series of fairy tale retellings with cyborgs. That's how I first found out about this particular series, and I was sold just like everyone else. The only difference is, it took me forever to pick up the first book while everyone else is already done and dusted. So I decided it's about time I read it for myself and I put it on my TBR for Booktube-A-Thon as my "hyped book".
I've come to the conclusion that it's overhyped (well the first book is).
Don't get me wrong, I actually really enjoyed Cinder. The characters are all so dynamic (Cinder, Prince Kai, Queen Levana etc.); there's a whole sea of personalities thrown into the mix. The whole story concept is really cool too. I love the cyborg involvement. But I didn't love the book as I'm sure so many others do.
My main issue with the book was its pacing. It was so slow! I was halfway through the book and nothing had happened. Well, a couple of mini-revelations were made here and there, ones that you could see coming from a mile away. Perhaps the lack of shock factor for me contributed to my perception of pace? Either way, it wasn't until the last hundred or so pages that things finally picked up, and actually surprised me.
Once I hit Part 4, the pages turned themselves. It was action-packed, suspenseful and I didn't see the ending coming the way it did. It really helped improve my perception of the book as a whole. But I still can't ignore the rest of the book. It was a book meant for world-building and an introduction to the politics that will no doubt play a role in the rest of the series. I appreciate that every Sci-Fi/Fantasy series needs devotion to the world-building so we can believe it, but for me, this just went on a bit too long. An entire book wasn't needed for that. So much more could have happened in that time.
I actually found it difficult imagining the cyborg part of the world. No matter which way I pictured them, it just seemed wrong in my head and that couldn't possibly work. I'm still sat here trying to picture Iko, two hours after closing that back cover.
I wish I could say I loved the book, but I can't. I liked it though. In my opinion it has the potential to be a good, if not a great series, and I am looking forward to reading the next book, though it isn't as high up on my TBR as certain other series are.
Overall I'd give Cinder 3.5/5 stars.
If you've read Cinder before, let me know what you thought of it down below, and I will see you in my next post!
–Rachael